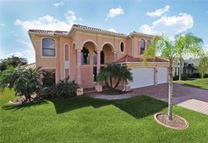 Vacation Homes in Cape Coral, Florida
Are you planning a Florida vacation? We offer beautiful vacation homes in Cape Coral, one of the most popular destinations in the Sunshine State thanks to the advantageous location away from the tourist crowds and the great variety of accommodations. All of our Cape Coral vacation rentals are privately owned and in top condition. Our professional property management and unsurpassed customer service make sure of that. Outstanding service and high standards throughout guarantee a relaxed vacation in one of the most spectacular parts of the planet.
Cape Coral Vacation Homes with Gulf Access
One of the reasons for Cape Coral's popularity is the option to stay in a waterfront vacation home that offers boating access to the Gulf of Mexico. The majority of our properties are in fact located on a Gulf access canal. We'll be happy to refer you to a local boat rental agency where you can make the necessary arrangements to have a boat delivered right to the private dock of your vacation home. In Florida, a special boating license is not required - your regular driver's license is sufficient. After receiving a detailed orientation, you can head out towards the Gulf of Mexico and explore the gorgeous surroundings by boat. Your Florida vacation will become truly unforgettable.
Cape Coral: The Right Choice for your Florida Vacation
Why Florida, why Cape Coral? A Florida vacation can include everything, from sunbathing on the beach to activities such as golfing and boating to visiting amusements parks like Disney World and Busch Gardens. Florida is also a dream come true for nature lovers, with numerous nature preserves, waterways for canoeing and kayaking, first-class hiking and bicycling paths and even horse riding trails. The Sunshine State truly offers something for everyone. With around 360 days of sunshine per year, the weather usually cooperates, too.
Why pick Cape Coral when looking for a vacation home in Florida? The city allows easy access to all the destinations in south and central Florida. Unwind after an eventful day in the relaxing atmosphere of one of our Cape Coral vacation rentals, perhaps by the pool or down on the boat dock, while planning your next exciting day.
Cape Coral Luxury Homes
For guests with the highest demands, we offer a selection of luxury homes. The upscale features of these types of Cape Coral vacation homes include elegant furnishings and a luxurious atmosphere where you can spend your Florida vacation in style. Spacious pool areas include both pool and spa, overlooking either a Gulf access canal or the Caloosahatchee River. Any of these exclusive vacation homes can also be rented with a boat.